Credit Union members can get hundreds in rewards for switching to Sprint today!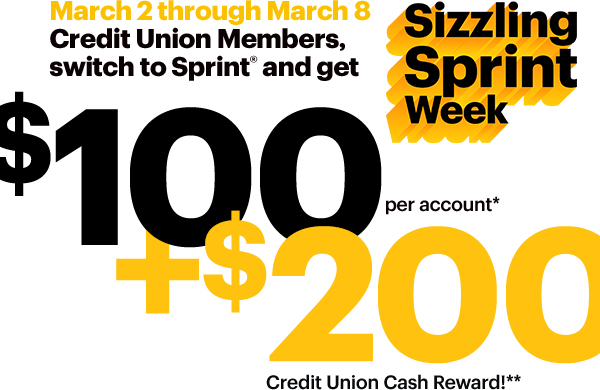 TruEnergy Federal Credit Union members can get hundreds in rewards for switching to Sprint today!
Now is the time to switch to Sprint. Switch between March 2 and March 8 and get a $100 PREPAID MASTERCARD®. That's on top of $200 in cash when you switch 2 lines. PLUS another $100 LOYALTY REWARD every year, per account. Switch now and see how the HUNDREDS stack up!
Claiming your rewards is easy.
Switch to Sprint today—find a store near you.
Register for your cash rewards at LoveMyCreditUnion.org/sprintrewards
Register here for your $100 prepaid Mastercard®.

But remember, this offer ends March 8.
Switch to Sprint and claim your rewards today!
*Via prepaid Mastercard. reqs. online registration port, and 60 days of service on a new line before card ships. Max 1 per account. Register online at www.sprintpromotionshub.com/#/Sizzling32 by 03/08/2020.
**Via deposit, $100 per line, max 2 lines. Req. qualifying plan and registration within 30 days of activation.
Cash Reward Offers: Phone lines only w/ 1 line on Unlimited Plus or Unlimited Premium plan. Avail. for eligible credit union members & member employees. $100/line, max 2 lines. Req. activ. at point of sale. Excl. prepaid & ports made between Sprint or related entities. Limit 1 Sprint Perks Corp ID per acct. No add'l. discounts apply. Loyalty Reward: $100/acct./yr. when acct. remains active and in good standing each yr. Transfer Reward: Existing Sprint customers who validate or transfer to the Sprint Cash Reward Program are eligible for a $100/acct./yr. deposit on 12 mo. anniversary. Deposit: Cash Reward issued by CU Solutions Group. Sprint acct. must remain active and in good standing for 31 days to receive Cash Reward. Allow 8-10 wks. for Cash Reward to be deposited to your Credit Union acct. If the Cash Reward does not appear after 10 wks., visit lovemycreditunion.org/reward-tracker. Other Terms: Offer/coverage not avail. everywhere or for all phones/networks. May not be combinable with other offers. Accounts that cancel lines within 30 days of activating on promo pricing may void savings. Offer, terms, restrictions, & options subject to change & may be modified, discontinued, or terminated at any time without notice. Restrictions apply. © 2020 Sprint. All rights reserved. Sprint & the logo are trademarks of Sprint. Other marks are the property of their respective owners.